Whale Watching On Whale One
WHALE WATCHING CRUISE ON WHALE ONE
Duration: Approximately 4 hours
Meeting point: Sunreef at The Wharf, Mooloolaba
Price: Adults $75, Children (4-14 years old) $55, Infants FREE, Family Pass (2 Adults + 2 Children) for $219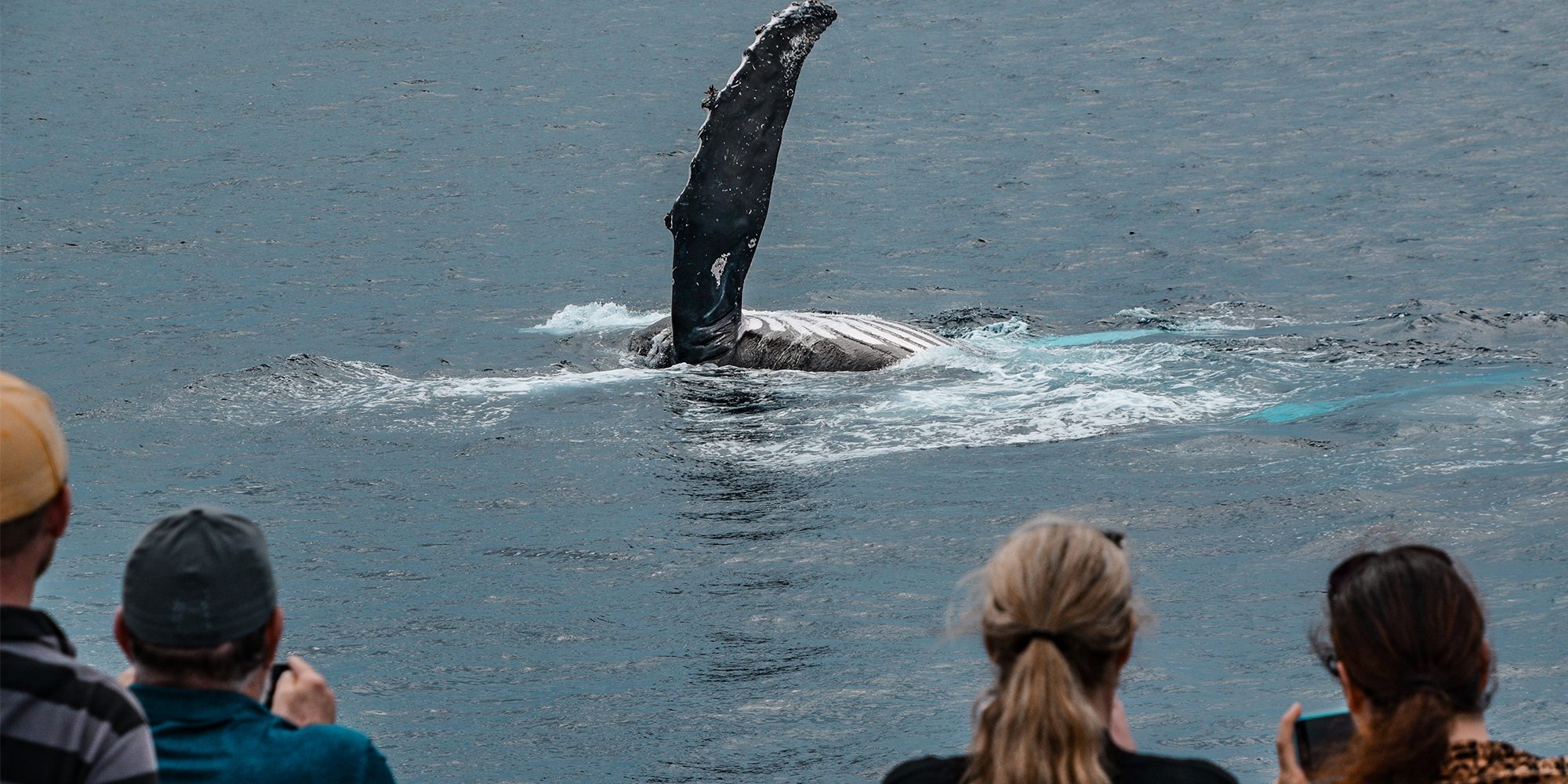 What you can expect
Check in at Sunreef starts at the time outlined on your confirmation email or text. When you arrive, we will see you at our check in desk and provide you boarding passes before you line up to board the vessel.
On departure our trained crew will provide a briefing about the whale watching tour and will answer any questions you may have about it. Once the boat exits the calm waters of the Mooloolaba River system, we search for whales by sight. We will explain during our briefing how to spot whales so you can help as well. Please bring a hat and polarised sunglasses to protect your sight from the sun and water.
Certain times of the season have different trip timings. Usually during the whales northern migration we travel further out to sea to what we call the "whale highway". This can take around 40 minutes – we may see whales, dolphins, turtles, and so much more on the way out there. During the southern migration we usually see whales sticking a bit closer to the coastline so trips do not take as long.
Read more about the humpback whale migration we observe on the Sunshine Coast.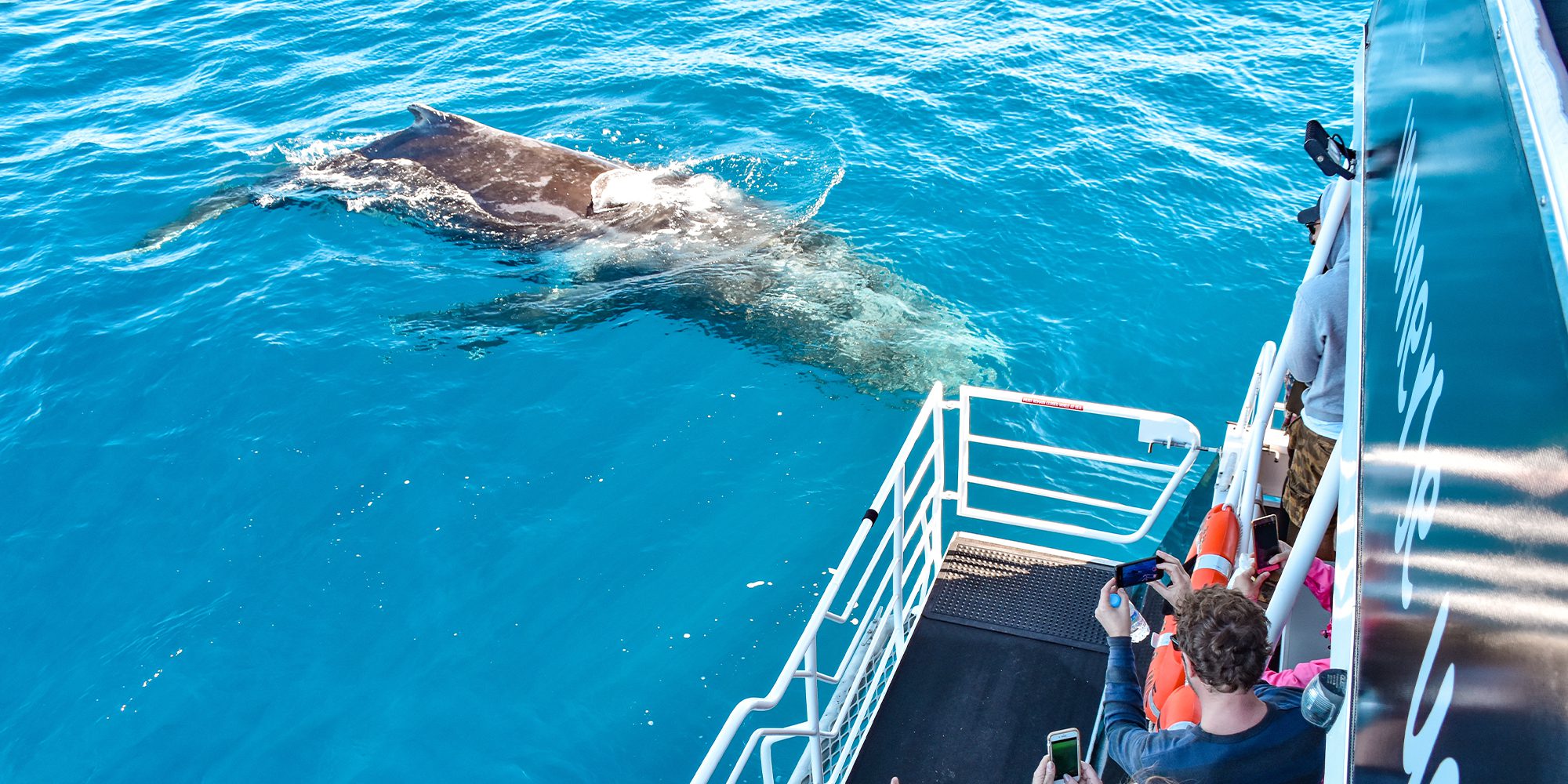 Whale Watching customers, please read the following
Trip confirmations: Your confirmation of the trip will depend on the sea conditions and weather. We will monitor this closely and if the weather or sea conditions are unsuitable, we will let you know as soon as we can. We will send out an email and text message the day before your trip around 3:30 pm to inform you of the status of the trip and its departure time. *Please note that while the weather may look great on the beach, it doesn't mean the conditions offshore are safe for watching. If we have to cancel a trip due to poor sea conditions it is for our customer's safety, and we will either rebook or refund you for this.*
Check in:  Check in at Sunreef will start at the time outlined on your confirmation email or text. When you arrive, we will see you at our check in desk and provide you boarding passes before you line up to board the vessel.
Parking: The Wharf complex has all day parking available, which you will need due to the length and nature of the activity. Please keep in mind especially if you are on an 11:30 pm or later trip that parking can sometimes get very busy. Please give yourself at least 15-20 minutes to find parking. We recommend that you park your vehicle in the Sea Life (Underwater World) car park at The Wharf Mooloolaba, 123 Parkyn Parade.
What to bring: Warm clothes, hat, sunglasses, appropriate footwear, and jumper. Please ensure you have your personal medications with you e.g. asthmatics, heart disease, anaphylaxis, etc.).
No drones are permitted on board.
On board: Our bar has hotdogs, veggie dogs, snacks, soft drinks and alcohol available. NO alcohol is to be taken on or carried off the vessel.
Prams and strollers: Wheels need to be able to be locked. We will gauge whether or not you will be able to take your pram on by how many passengers we have on board and if there will be other prams on board, so you will need to wait until we give the final call to see if it's okay. If you bring a pram on board, you must choose a spot downstairs to use as your designated seating area. You can still walk around, but please do not leave your pram unattended. You are responsible for your pram.
Who is eligible to come on this tour: 
If you are pregnant, we unfortunately cannot take you on this tour. 
If you are bringing children, there must have an adult/guardian with them at all times.
Due to AMSA safety restrictions, unfortunately there is no wheelchair access available on any of our vessels.
Seasickness: This is in open water and we suggest you consider seasickness tablets to minimize the risk of seasickness affecting your trip. There are no refunds for seasickness.
Refunds: We have a 100% money back guarantee on sighting whales. While on the trip, if the boat doesn't sight any whales you will be eligible to get your money back or join us on another whale watching tour.
We have a 72-hour cancellation and rebooking policy. A cancellation by you made less than 72-hours prior to departure incurs a 100% cancellation fee. NO REFUNDS. A "no show" on the day also attracts 100% cancellation fee.
At Sunreef, we do everything we can to provide an amazing experience from start to finish with all our trips. As we outlined above, these are wild animals that we do not have control over. Some whales may not want to socialise with us, and we appreciate your respect and understanding when this happens. 
wHALE wATCHING ON wHALE oNE lIVE cALENDAR