PADI Divemaster
Our PADI Divemaster Program will give you an immersive experience into what it's like to work as a professional diver through working with our Sunreef crew. Along the way, you'll gain a level of skill that will prepare you for working in the professional diver environment. If you have been wanting to make a career change into the dive industry, the Sunreef PADI Divemaster Program is where you will start. 
Duration: Each course is personally tailored to meet your needs, so you would need to come in and sit down to make a plan on how to incorporate the course around your work schedule. Some people take several months to complete it, others can complete the course in a month or so – however please bear in mind you would be reliant on the weather which can vary at any time of year.
Meeting point: Sunreef at The Wharf, Mooloolaba
Price: $1999 including your books, all the required PADI materials for the course, all Sunreef charter and pool entry fees for dives and skills toward the completion of your course, an internationally recognised PADI Gold Divemaster Certification Card.
We run a "work-for-diving" program to get you up to the level you need if you have not yet logged 40 dives, however unfortunately this only applies to the extra dives, not affecting the course fee.
Prerequisite: You will need to hold a PADI Rescue Diver certification or equivalent plus 40 logged dives. You must also have Emergency First Response Primary and Secondary Care within the last 24 months. Divemasters must be adequate swimmers, feel comfortable in the water, and in good physical health. You must be 18 years or older. You will be required to get a dive medical clearance before starting the course (Recreational Dive Medical (AS 4001.5) within the last 12 months).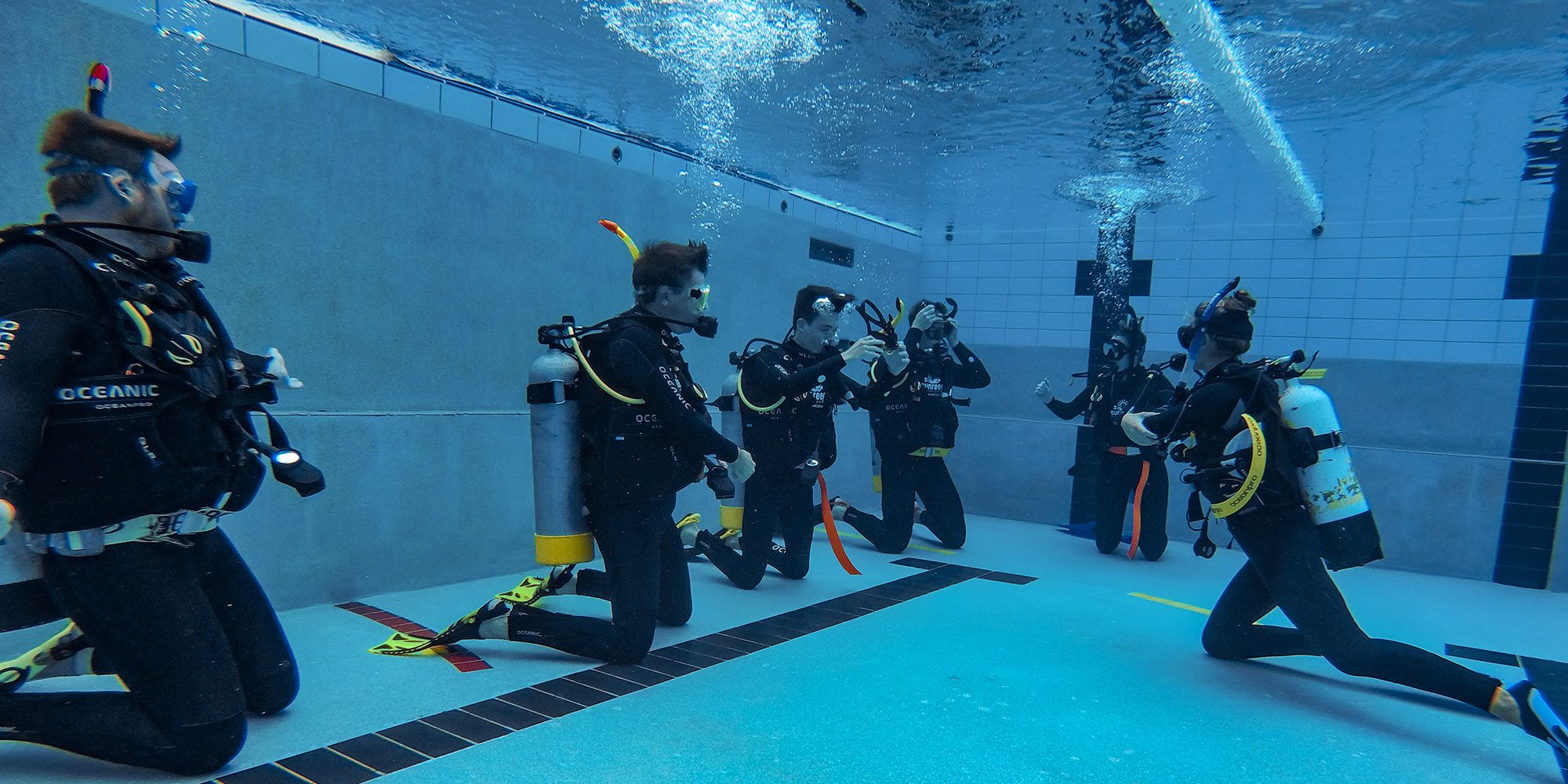 What you can expect
Check in for your dives with Sunreef start half an hour before the normal trip outline.
You will work closely with Sunreef PADI Instructors, to fine-tune your skills, and teach you how to be a leader of dive activities. Knowledge development, waterskills, and hands-on practical assessments will help you in developing these skills. 
Divemaster Skills and qualifications
Through this program, you will study and practice the following topics until you are competent – to ensure you can confidently use them throughout  your future work and dives after becoming certified:
Lead dives for certified divers

Diver safety, risk management

Diving business and careers
Awareness of the dive environment
Dive setup and management
Dive mapping in open water
Supervising dive activities
Assisting with student divers and snorkelers
The role and characteristics of the PADI Divemaster
Organizing a search and recovery project and a deep dive
Conducting a scuba review/Refresher course and a skin diver course
Assisting with a Discover Scuba Dive and leading a Discover Local Diving program
Conducting a dive briefing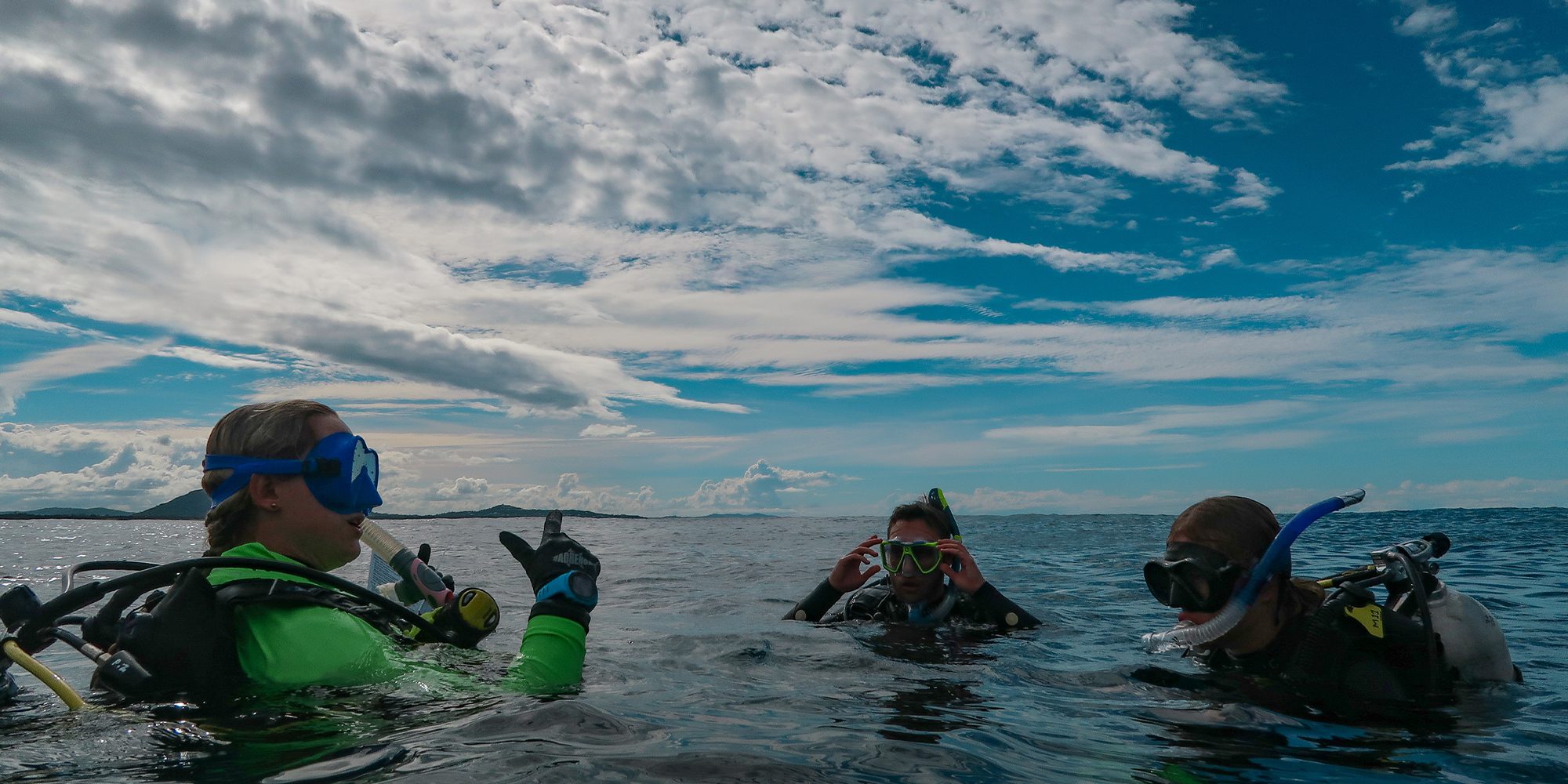 Scuba diving equipment
As a dive professional, you'll want to have all your basic scuba equipment, including a dive computer, a dive knife, and at least two surface signaling devices. During practical skills exercises, like underwater mapping and search and recovery, you'll use a compass, floats, marker buoys, lift bags and slates. Your PADI Instructor may suggest additional gear that will be useful throughout your diving career.
If you do not own your gear yet we recommend looking in to as the rental of $75 per day would end up costing you more than new equipment. We can offer great package deals if you are in need of a new kit.
The Sunreef shop has many options for all the above listed gear, your PADI Dive Instructor or the Sunreef shop crew will help you with finding the best options for you, and give you recommendations on everything you need.
Student Divers please read the following
To enroll Sunreef's PADI Divemaster program you must be 18 years old or older. You need adequate swimming skills and need to be in good physical health. 
Prerequisite: Minimum PADI Rescue Diver or equivalent, 40 logged dives, Emergency First Response Primary and Secondary Care within the past 24 months.
Required forms: Each diver must complete some paperwork at Sunreef before starting this course with us. You will also be required to have a Recreational Dive Medical (AS 4001.5) done in the last 12 months as it is a requirement by Queensland Workplace Health and Safety.
Course confirmations: The course dive will depend on the sea conditions and weather. We will monitor this closely and if the weather or sea conditions are unsuitable, we will let you know as soon as we can. We will send out an email and text message the day before your trip around 3:30 pm to inform you of the status of the trip and its departure time.
Seasickness and equalization: If you find yourself dealing with seasickness or being unable to equalize, our crew will look after you and ensure you are comfortable and safe. However, as this is not something in our control we will not issue any rebookings or refunds for inability to equalize or being seasick and not completing dives. We suggest you consider seasickness tablets to minimize the risk of seasickness affecting your trip. 
Parking: The Wharf complex has all day parking available, however please keep in mind especially if you are on an 11:30 am or later trip that parking can sometimes get very busy. Please give yourself at least 15-20 minutes for parking. We recommend that you park your vehicle in the Sea Life (Underwater World) car park at The Wharf Mooloolaba, 123 Parkyn Parade.